Shopping Basket
Your Basket is Empty
There was an error with PayPal
Click here to try again
Thank you for your business!
You should receive an order confirmation from Paypal shortly.
Exit Shopping Basket
Raleigh. Cary. Durham. Fuquay Varina. Apex. Chapel Hill & More.

"Carolinas' Most Popular Magicians"
Toll-Free: (888) 422 - 3767
Raleigh: (919) 995 - 3924

Host An Event Your Guests Will Rave About For Years To Come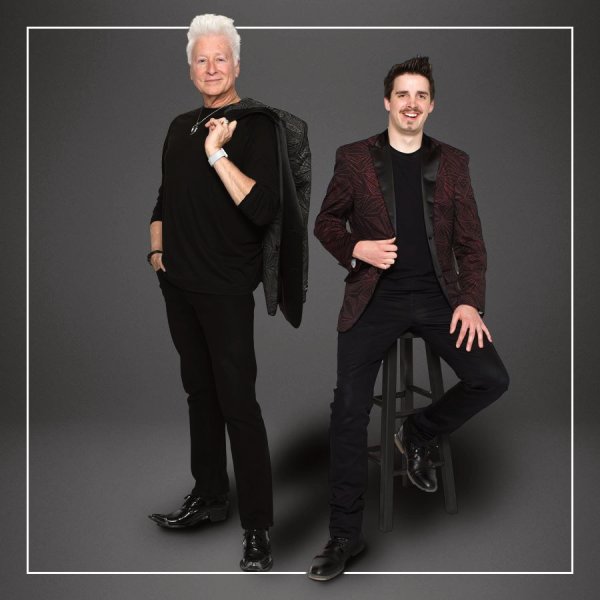 Carolinas' Most Popular Magicians
Call Now: 919 - 995 - 3924
Chris and Neal are full time professional entertainers who perform hundreds of shows every year. Experience the difference as Rockstar Magic provides a high energy blend of outstanding showmanship, commanding stage presence, surprising versatility, delightful on-stage chemistry and a host of amazing illusions. As one of the most in demand acts of the Carolinas, Rockstar Magic has helped countless clients create successful, energetic events full of laughter, spectacle and excitement. Don't settle for less when you can book the best!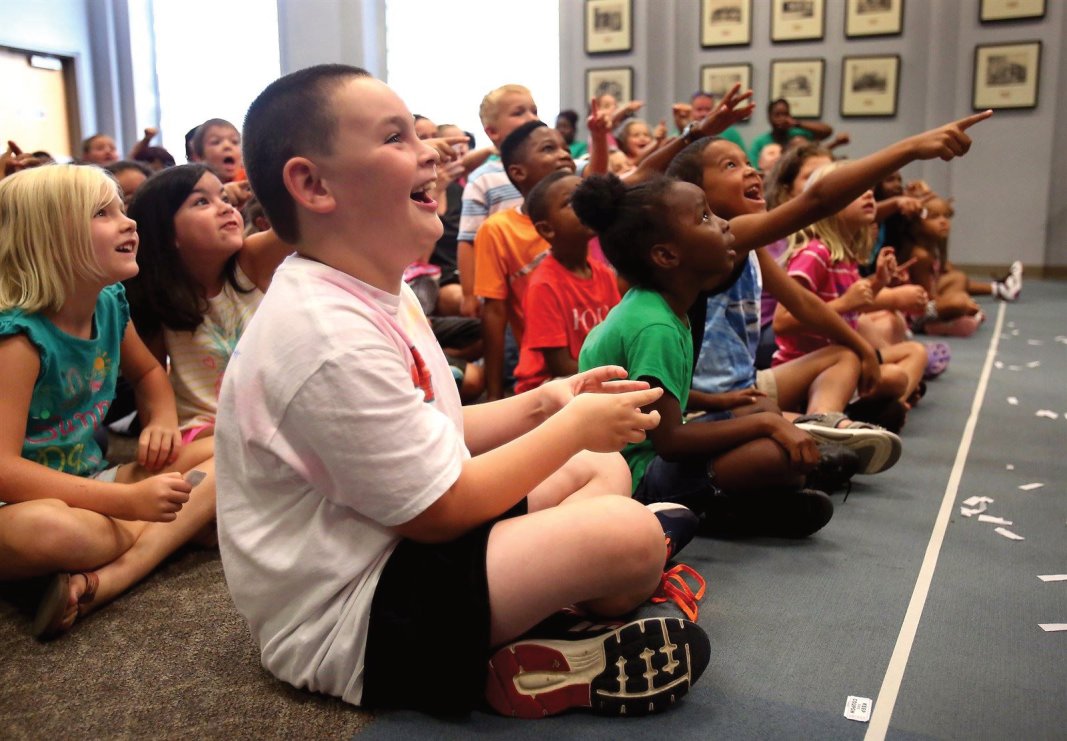 The Rockstar Magic Of Chris & Neal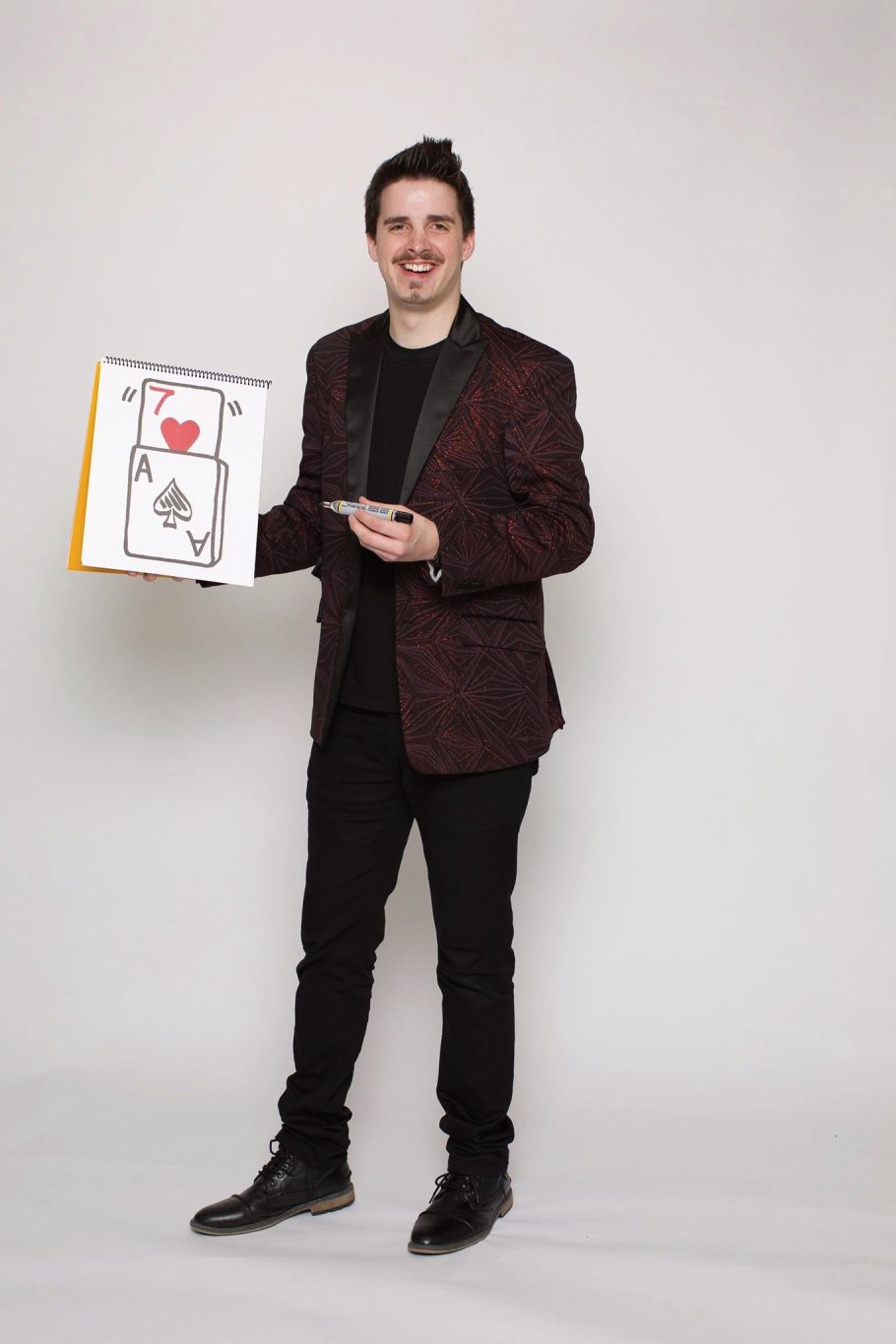 Chris and Neal are the areas leading kids and family magicians who specialize in bringing events to life across the Carolinas'. Chris and Neal's laughter packed magic and illusion show combines their flare for the dramatic with powerful moments of illusions to create a beautiful tapestry of wonder and amazement.
Your guests will enjoy an exhilarating experience of
mind-bending magic
, hilarious antics, crowd interaction and more. Best of all, their act is 100% Guaranteed! Either you love their presentation or it's free. No need to worry though, you're in good hands.
Preparing that perfect
kids birthday party
(anywhere in the Raleigh region) and want to see your child shine like a star? Look no more. Chris and Neal will even make your child FLOAT in mid-air for the grand-finale. This gravity-defying illusion is the ultimate Kodak moment.
Call Now: 919 - 995 - 3924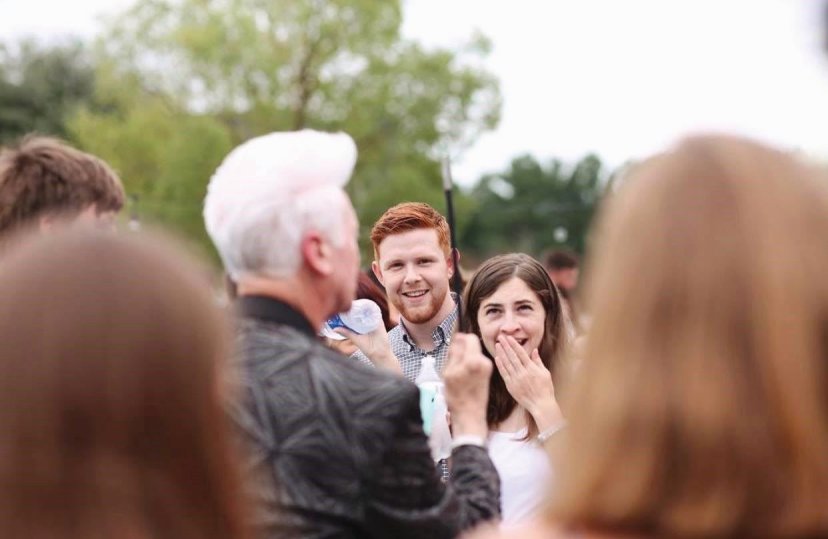 Dazzling. Mystifying. Wonderful.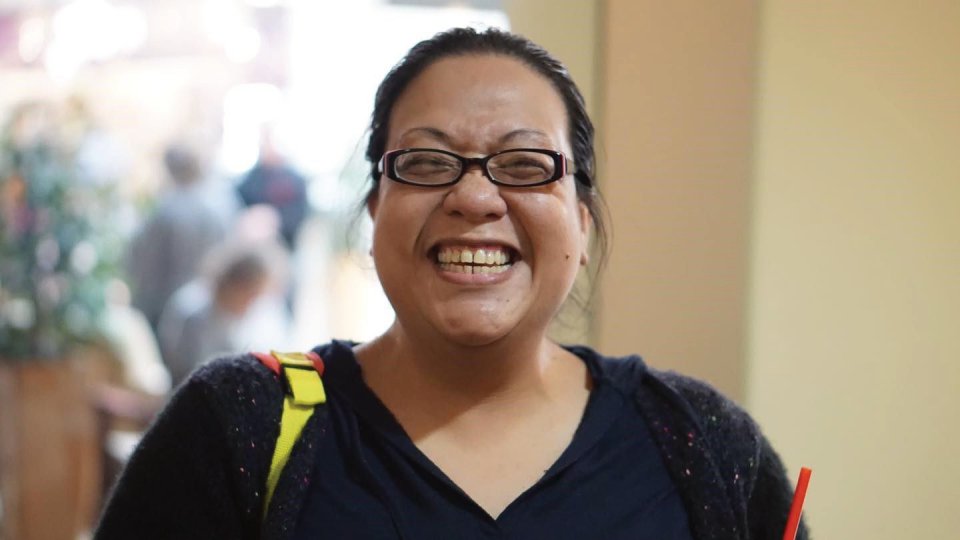 Working with your company on an annual picnic, fall-festival, Christmas party etc? Searching for squeaky clean, yet high quality
corporate entertainment
good for the whole family? Let Rockstar Magic lead the way! Chris and Neal's corporate act is perfect balance of on stage comedy & theatrics sure to leave your guests with life long memories. Planning an event and in need of close-up sleight of hand magic? Chris and Neal would love to help. Their sleight-of-hand is sure to ignite excitement and spark wonder.
View more information HERE
.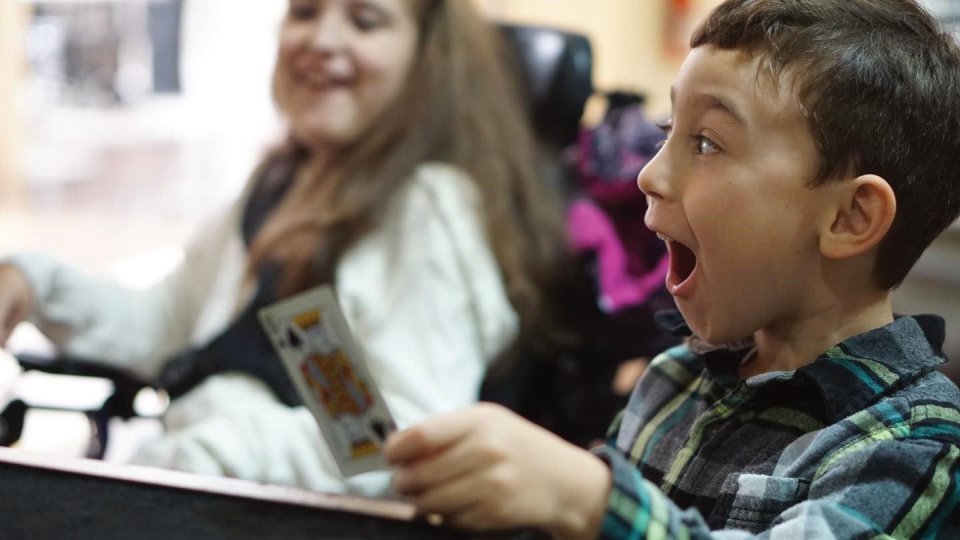 Raleigh. Durham. Cary. Fuquay Varina. Wake Forest. Apex. Fayetteville. Burlington. Greensboro. Charlotte.
Are you a PTO Mom in search of ideas for a memorable
Family Fun Night?
Or perhaps searching for anti-bullying assembly ideas for daytime programming in the season to come? Chris and Neal offer a range of assembly options sure to peek your interest on topics such as reading, bullying, self-esteem, and more. Even their signature Dream Big Magic Show. Each of their assembly programs is the perfect balance of educational content delivered alongside memorable moments of illusions.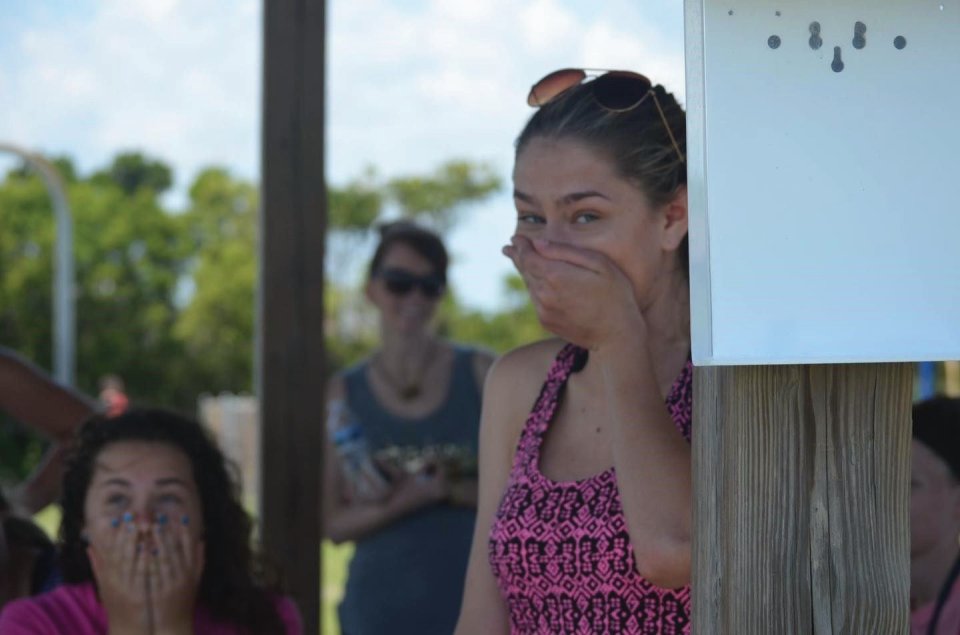 Are you planning a community event? Family Day? Special Olympics? Working with the Boy Scouts or Girl Scouts? YMCA?
Let us help you.
Experience the difference as Rockstar Magic provides a high energy blend of outstanding showmanship, commanding stage presence, surprising versatility, delightful on-stage chemistry and a host of amazing illusions.
Questions? Call Us Now:
888 - 422 - 3767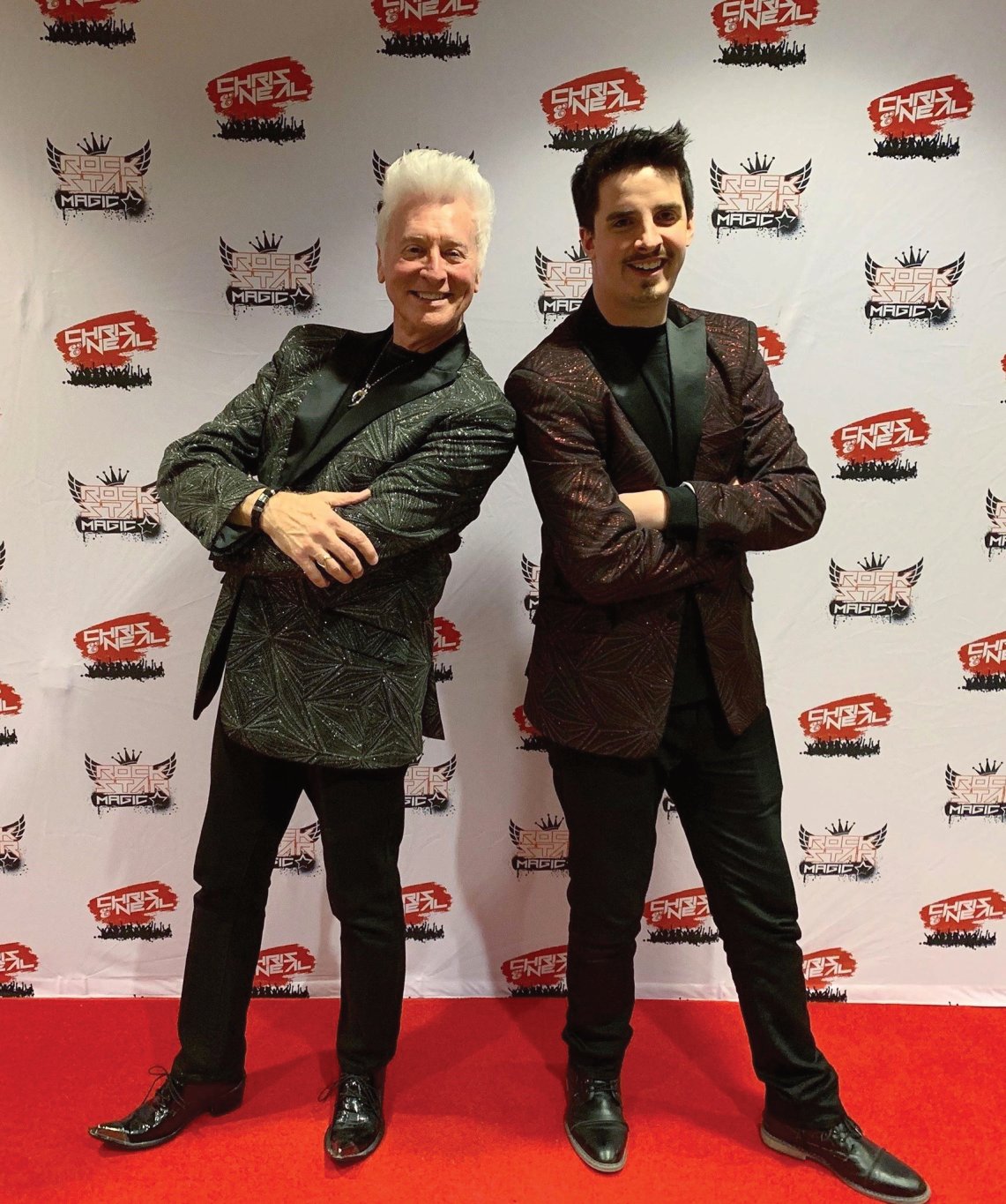 Dear Librarian, We see you. We hear you. Tired of the same old, same old boring
summer reading programs
? Growing weary of finding assembly performers are are sure to ignite the crowd? Tired of magicians over-promising and under-delivering? Give us a call. Let us share with you how our programming is truly guaranteed to be a breath of fresh air! Best of all, our unique summer programing and grand production magic show is available for booking in North Carolina, South Carolina, Georgia, Maryland, Tennessee, Alabama, Virginia and More. Plus, there's more. The Red Carpet Experience is back by popular demand for Summer 2021! Enjoy this memorable addition. Chris and Neal are even able to offer their branded magic kids, autographed posters and more.
The Ultimate Birthday Party Entertainment Solution 100% Guaranteed To Amaze Your Guests!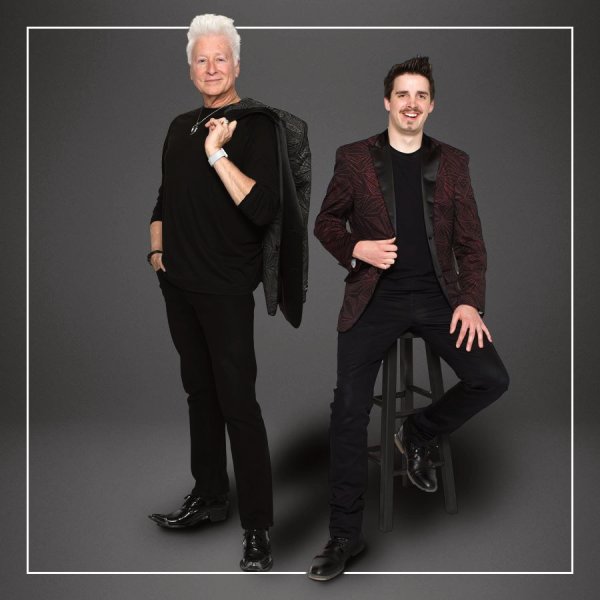 Raleigh, Cary, Chapel Hill, Durham, Garner, Fuquay Varina, Knightdale
Ain't no party like a rockstar party cause a rockstar party don't quit!
Rockstar Magic is the perfect solution for your
birthday party
entertainment needs in the Raleigh North Carolina region. Chris and Neal are professionals to the core who know how to party. You can't go wrong with their laughter packed and interactive spectacle guaranteed to leave the children as well as the adults in delight and amazement. Enjoy this spectacular and engaging major production show with all the "bells & whistles" plus non-stop excitement all accompanied by powerful pre-recorded show music and a professional sound system topped off by their dazzling light up backdrop.
Chris and Neal travel and perform their magic and illusion shows across a six state region for schools, libraries, churches and businesses. When performing for birthday parties Chris and Neal cover Raleigh, Durham, Cary, Chapel Hill, Garner, Knightdale, Fuquay Varina and all surrounding cities.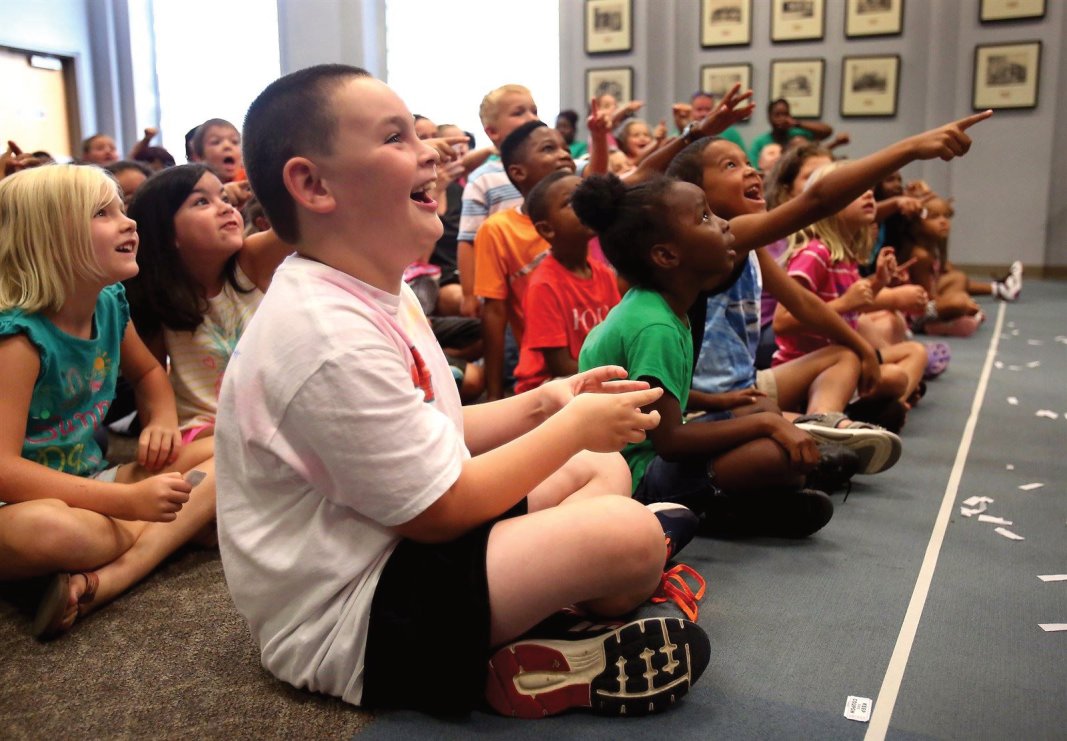 Raleigh, Cary, Chapel Hill, Durham, Garner, Fuquay Varina, Knightdale
"Sure-Fire Entertainment Guaranteed To Leave Your Guests Exploding With Laughter & Amazement!"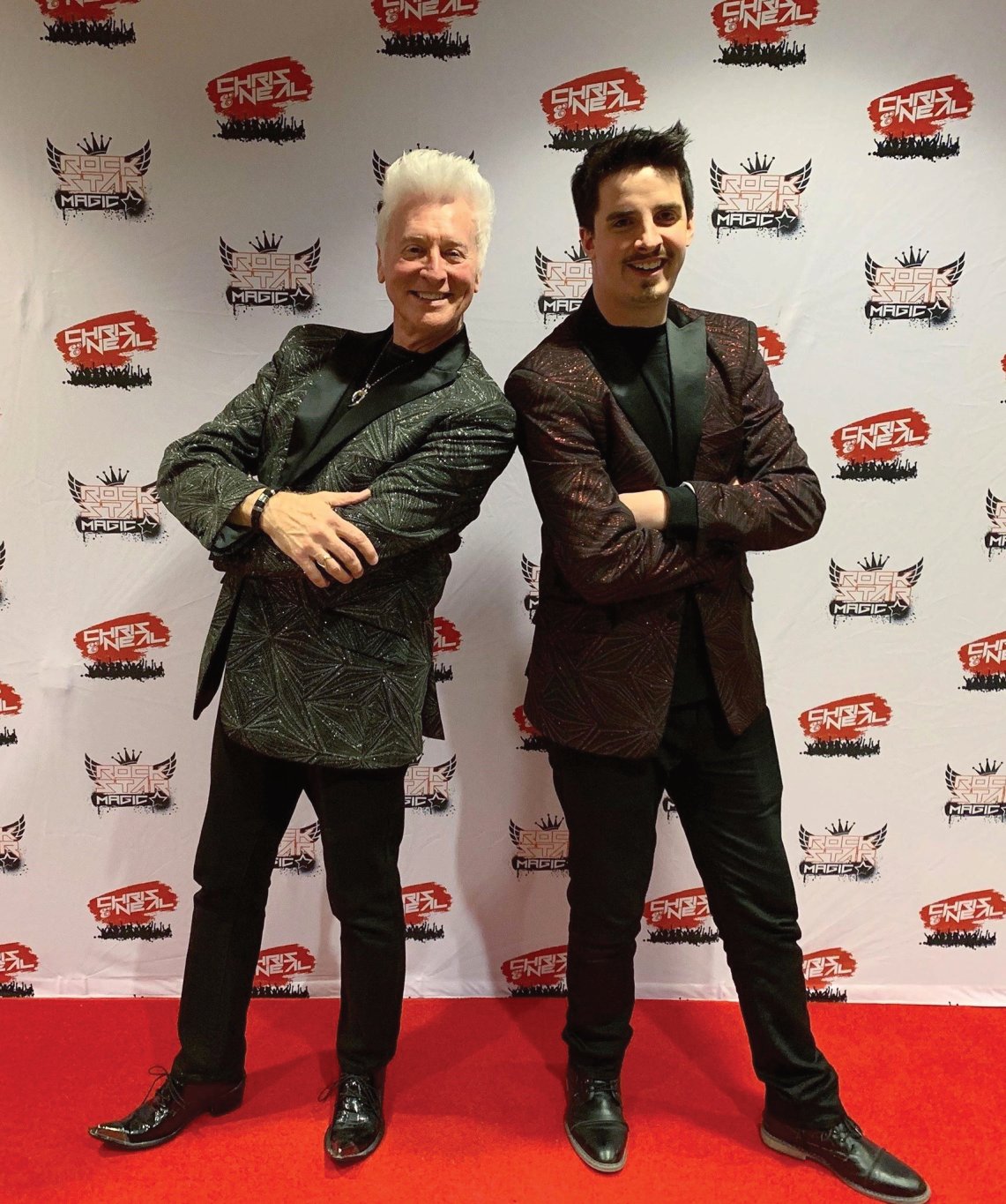 A crowd pleasing show packed with powerful magic and illusions certain to create a truly unforgettable event! Chris and Neal will even transform your child into an instant superstar making him/her FLOAT in mid-air for the grand finale, a sure-fire moment of larger than life spectacle.
Chris and Neal present an ultra fast paced magic show and are able to enthrall your guests (even the adults) from start to finish making your child's party the 'talk of the town'. View our photos and read the many reviews located here to learn how Rockstar Magic will bring the heat!
"This is the BESTEST birthday party ever" is the phrase that came out of nearly every six year olds mouth who attended my son's birthday party today. Such flattering compliments were spurred by none other than Chris and Neal's party performance. I wish a quick "Thank You" would suffice, but after today, it wouldn't serve such a performance justice for such a magical show that my son will NEVER forget! You guys are AMAZING!!!" Sondra Booher - Raleigh, NC
There are lots of magicians, but only ONE Chris & Neal...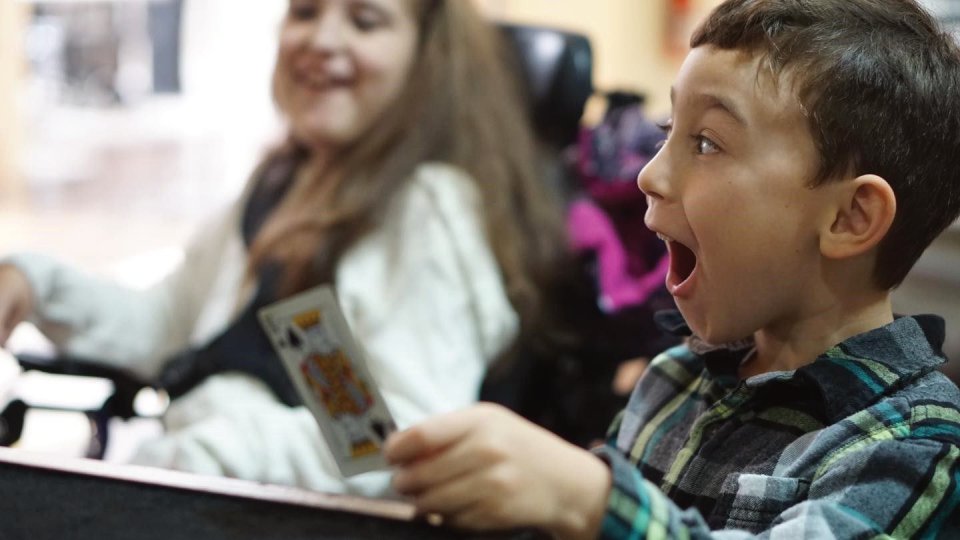 Raleigh, Cary, Chapel Hill, Durham, Garner, Fuquay Varina, Knightdale
"I am nuts over their talent and performance ability as well as their professionalism. True professionals to the core who know how to PARTY and make the crowd go HHHHEEEEYYYYYY. At one point in the show Chris almost had me in tears because he is an inspiration and a great soul. Neal is to die for, high energy and funny. Overall I am so happy with the turn out, worth every penny. I want to have them back over and over again just so I can enjoy their performance. My husband and sons also loved it and their faces were priceless. So much joy and happiness in the room it was truly priceless." Mary Aguilera - 
W
ake Forest, North Carolina
"Thank you guys so much for everything. You guys are amazing!!!! Can't wait to brag to everyone that wasn't there. And all my friends loved you guys. You gave my son the best birthday party he's ever had. Kids were bragging about it being the best!!! You made it a lifetime memory!Thank you guys. You're amazing. Never stop doing what you're doing. You guys are really great!!!!! You have a fan for life, and I'm referring to me." Elizabeth Guion - Garner, North Carolina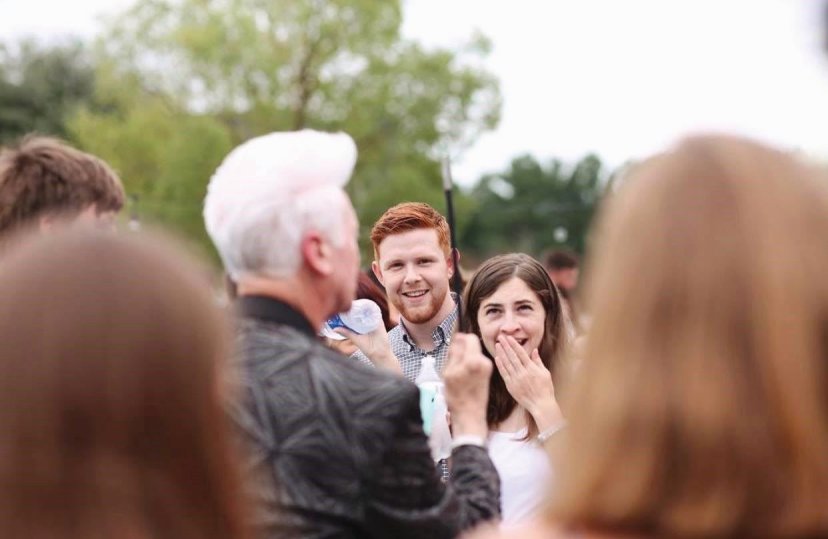 "I have to thank Chris and Neal for making my daughter's 8th birthday so amazing. We are from California and on vacation in the 
Outer Banks
 and needed to find entertainment for her party. We chose Chris and Neal's magic show after reading many excellent reviews. Boy, we were not sorry. They take magic shows to another level. We had an audience of all ages and everyone was mesmerized. The birds and rabbit were great. My daughter loved being the star and she even got to levitate. The music kept the room pumped up too. Thanks for making our party memorable." Reshma Gulati (Los Angeles, California.)
"You made it a LIFETIME memory!"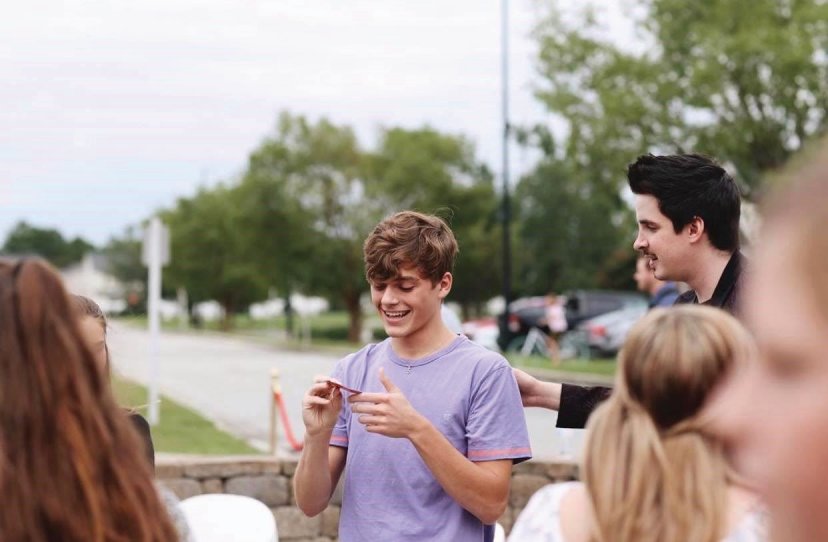 "All I can say is 'Wow Thank Y'all So Much!'. I am very impressed with y'alls new age approach at performing. I was far from bored and I am not one to be easily entertained. Y'all are definitely the 'Gold-Standard' of entertainment for kids b'days. My wife and I have never been so pleased with our son's birthday plans. I still don't know how y'all made Tyler float, but it was a 'spectacle', or so my wife says. Hiring Chris & Neal was a home-run, NO...It was a GRAND-SLAM!" Aaron Crittle - 
Birthday Raleigh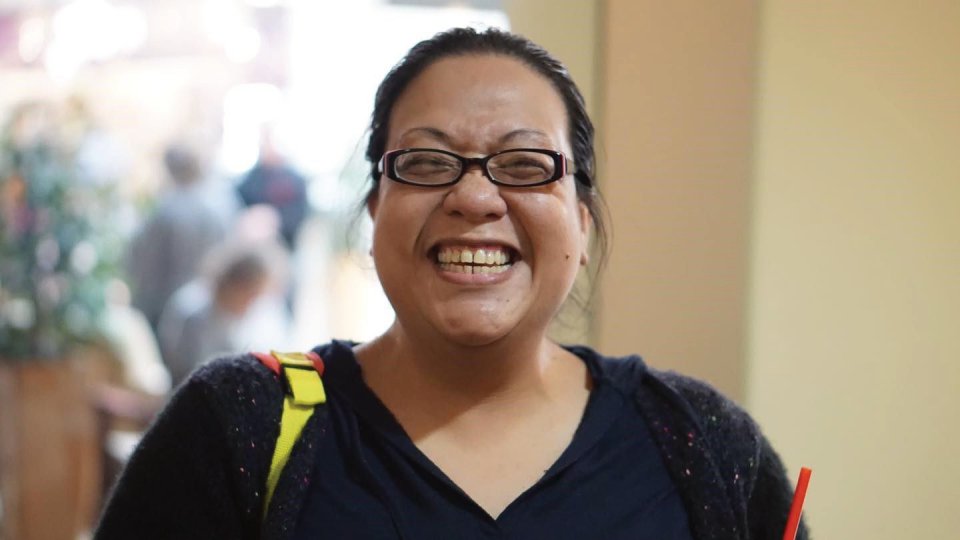 Raleigh, Cary, Chapel Hill, Durham, Garner, Fuquay Varina, Knightdale
"Totally Rocked The Party!"
"Chris and Neal's show was nothing less than spectacular. They. Brought. Animals! Their music was upbeat, all the kids knew the songs! Chris & Neal's energy was fantastic!The tricks were engaging, and kept everyone wondering how they did it. Their show was full of comedy, which was totally age appropriate. The illusions that they performed during the birthday party were truly of a professional caliber; they were excellent with the kids! The kids AND the parents were all laughing so hard throughout the show. Chris & Neal totally made my girls stars of the show. Both of my girls were able to participate in several of the illusions, including being the "World's Greatest Magician" and floating in mid air in front of everyone! If you are looking for something new, different, and just awesome for your birthday party I truly do recommend calling Chris and Neal!!! I've seen many magicians over the years, and no one can ROCK your party like they can!" Monica Brady - 
Jacksonville NC
Raleigh, Cary, Chapel Hill, Durham, Garner, Fuquay Varina, Knightdale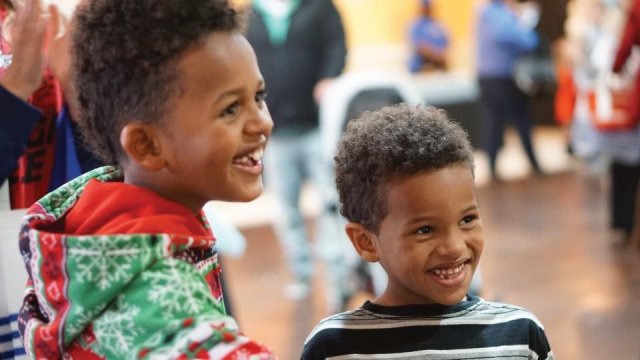 "Chris and Neal made our daughter, Ariana's, birthday the BEST birthday ever. They kept the children and the adults ENGAGED and AMAZED. Every part of their show was FANTASTIC! Chris and Neal were extremely nice & made sure the show was all about Ariana. The BEST part was seeing our daughter (who is very shy) participate with ease. The kids and adults were in AWE seeing Ariana float in the air, in our living room!!!! Chris and Neal were perfect in making our daughter's birthday special with everlasting memories. I would DEFINITELY recommend these guys to everyone around. Thanks to Chris and Neal for everything. We had an AWESOME and UNFORGETTABLE time!!!!" - 
Marina Workman
 Raleigh, North Carolina
Raleigh, Durham, Cary, Chapel Hill, Wake Forest, Burlington, Fuquay-Varina
Chris and Neal have also recently performed multiple events for Reality TV Stars, Ronnie and Amy, of the hit show "Lizard Lick Towing" on the TruTV Network. Chris and Neal were invited to entertain at their sons birthday party back in January. After Ronnie and Amy saw the act in person, they knew it was nothing short of spectacular. Ronnie scheduled Chris and Neal to perform at the Lizard Lick Fall Festival in the Raleigh area and the crowd response was out of this world!
Raleigh, Durham, Cary, Chapel Hill, Wake Forest, Burlington, Fuquay-Varina
Raleigh, Durham, Cary, Chapel Hill, Wake Forest, Burlington, Fuquay-Varina
Their commitment to customer excellence is fully backed by their "Make Your Bill Disappear" guarantee. Chris & Neal guarantee your event to be a great success or you don't pay...it's that simple.
"Today we had The Rockstar Magic of Chris and Neal at our school and they were phenomenal! We have already booked their Christmas show. They are highly energetic entertaining and amazing with the children. There was not a single child that was not smiling or laughing or screaming with laughter. Even the staff loved them, and want to know when they are coming back. They are honestly the BEST magic show I have ever had at my school. It's a must to see for children of all ages!" Melissa Johnson - Camp Director (Raleigh)
Raleigh, Durham, Cary, Chapel Hill, Wake Forest, Burlington, Fuquay-Varina
"Thanks Chris and Neal for the super-fun magic program! You packed the room full of excited summer readers. I truly appreciate the level of professionalism and the high quality of programming you delivered. Your relationship to the audience was a hit! The live animals, science facts, and rockin' soundtrack kept the audience amazed, astounded, engaged and enthusiastic! An outstanding performance!" — Keith Hayes (Children's Librarian - Cary, NC).
Raleigh, Durham, Cary, Chapel Hill, Wake Forest, Burlington, Fuquay-Varina
This was by far the best magic show I have ever seen. I love the energy that both Chris and Neal bring. I recommend Rockstar Magic to any and everyone. Both Chris and Neal put the magic in magician . Thank you guys! Please come again, the Boys and Girls Club loves you. We booked them way in advance and they were worth every penny. — Neville B. (Sneads Ferry, NC Boys & Girls Club Director)
"The Rockstar Magic Show presented for McColl School students in July was totally awesome!! Our library has engaged magic performers before, but your show was by far the most professional, the most entertaining, the most energetic, all the while interjecting science facts and information in an engaging way. The students absolutely loved the performance as did the staff. Marlboro County is such a rural county with transportation a problem for many. Being able to take your show to the one school already in session was a big part of our outreach summer reading program. You talked about libraries and the importance of reading and we were able to get the name of the public library out there through you. A few days after your performance, one of the principals called me and thanked us profusely for sharing our programming with McColl students through your performance. They are making a huge banner to display at the school and will also share one with us." Virginia McCraw — Marian Wright Edelman Public Library
Raleigh, Durham, Cary, Chapel Hill, Wake Forest, Burlington, Fuquay-Varina
"I have known Chris & Neal since 2002 and hired them for numerous events for Marine Corps Installations-East, Marine Corps Base Camp Lejeune, NC, as well as Naval Hospital,Camp Lejeune. They are outstanding entertainers for audiences of all ages. A few of Chris & Neal's greatest strengths are their work ethic and ability to get along exceptionally well with people from all walks of life. They are very passionate about their work and a true pleasure to work with.  As a result of their flawless performances, I have booked them for eight shows at Camp Lejeune. I UNHESITATINGLY recommend them." - Heidi Anastasia (MCCS Coordinator, Camp Lejeune)
Chris and Neal are both "FULL TIME" professional entertainers in Raleigh, NC who perform hundreds of shows every year. So, you can rest assured that you are dealing with pros who truly know how to make your event a hit this year. With their laughter-packed interactive magic and explosive energy; along with their magic rabbit nothing short of a sure-fire exhilarating experience is guaranteed. Your favorite magicians will keep the audience on the edge of their seats with a high-energy, pulse-pounding performance that will bring down the house.
Raleigh, Durham, Cary, Chapel Hill, Wake Forest, Burlington, Fuquay-Varina
Raleigh, Durham, Cary, Chapel Hill, Wake Forest, Burlington, Fuquay-Varina
"I am nuts over their talent and performance ability as well as their professionalism. True professionals to the core who know how to PARTY and make the crowd go HHHHEEEEYYYYYY. At one point in the show Chris almost had me in tears because he is an inspiration and a great soul. Neal is to die for, high energy and funny. Overall I am so happy with the turn out, worth every penny. I want to have them back over and over again just so I can enjoy their performance. My husband and sons also loved it and their faces were priceless. So much joy and happiness in the room it was truly priceless." Mary Aguilera - Wake Forest, North Carolina
"Thank you for a great show! I sat in the front row with the kids and they all were amazed. The rapid movement of the show with trick, after trick, after trick, with 
funny bits-in-between and thumping fun music kept the entertainment level high for the entire 45 minutes. The parents and kids were talking about the show all day. And one of the boys yelled, "This is the greatest day of my life!" Thanks for a fantastic performance!!!!! You both are true showmen." Cori Vaughn - Chapel Hill, NC
"The Rockstar Magic of Chris and Neal performed at my daughters 4th birthday party. They were absolutely AMAZING!! She had a great time, as did all her friends and parents! Chris and Neal were very involved with the kids and the adults. Everyone could not stop laughing! They have amazing facial expressions and some wickedly awesome dance moves!! I HIGHLY recommend them! Anyone looking for a good time and lots of laughs should definitely come to Chris and Neal! So many amazing tricks up their sleeves! 110% happy with the show! " Amber Fye - Fuquay Varina, NC
Raleigh, Durham, Cary, Chapel Hill, Wake Forest, Burlington, Fuquay-Varina
/