Shopping Basket
Your Basket is Empty
There was an error with PayPal
Click here to try again
Thank you for your business!
You should receive an order confirmation from Paypal shortly.
Exit Shopping Basket
Raleigh. Cary. Durham. Fuquay Varina. Apex. Chapel Hill & More.

"Carolinas' Most Popular Magicians"
Toll-Free: (888) 422 - 3767
Raleigh: (919) 995 - 3924

| | |
| --- | --- |
| Posted on 25 July, 2013 at 2:32 | |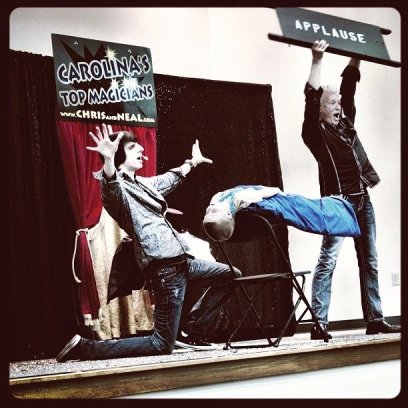 ROCKSTAR MAGIC OF CHRIS & NEAL
Dear Birthday Party Mom/Dad,
So, you've decided to plan a fantastic birthday party for your son or daughter this year that you want them remember for a lifetime. In today's day and age, it's difficult to keep children entertained... especially groups of them. How do you decide on a clown, a bounce house, a magician, juggler etc? So many choices, so little time.
We have compiled some highly valuable information here to help moms and dads out when planning children's parties all through the Carolina's.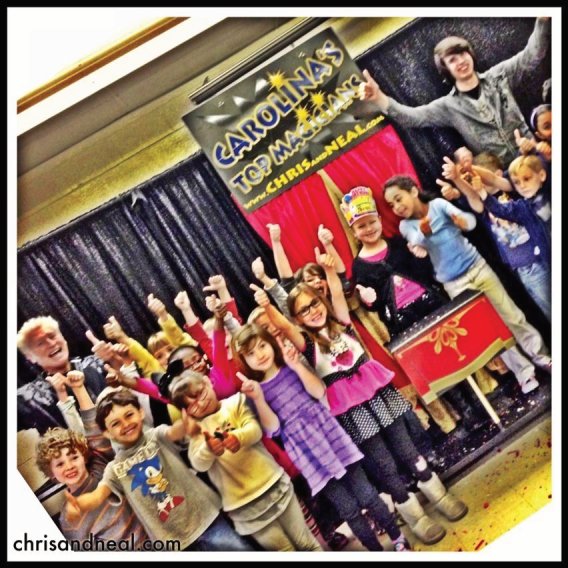 Anytime you are hiring specialized entertainment in Goldsboro for any event it's very important to have some set "specialized" qualifications that you're looking for. The last thing you want to do is leave the party up to chance and schedule the first Goldsboro magician or entertainer you find. It's important to do some research, to ask lots of questions and really invest some time into finding that ultimate kids party entertainer in Goldsboro.
I am just going out on a limb here, but if your son broke his leg after falling from playing around in a neighborhood tree - I'm quite certain you'd be searching for an experienced pediatric physician with the proper career knowledge to best treat your son and assure him that he will be just fine. Anyone can attend medical school and become that pediatrician - however, not anyone can excel in the pediatric field. It takes a very special skill and talent.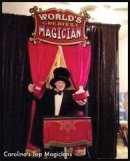 Chris & Neal are two of the Goldsboro areas
ONLY
full time magicians, and they specialize in family parties and community events. Their combined 30+ years in the family entertainment business gives them a major advantage called "experience". There is nothing quite like a tried and true, A+ rated magic act by a Goldsboro magician who's been performing for years!
During Chris & Neal's incredible magic show kids and adults will be amazed by the appearance of live magic doves, their beautiful white parrot and even the magic rabbits! Plus, for the grand finale of each Goldsboro birthday party Chris & Neal will make your child FLOAT in mid-air! Yes, you read that right... we said, "FLOAT". Oh, and lets not forget about the other amazing, and highly interactive illusions that Chris & Neal pack into their jaw dropping magic act. You will be blown away, and your guests will be absolutely electrified by their magic! Best of all, everything is good clean family fun. No inappropriate jokes, no foul language, kid friendly humor and explosive magic all the way through.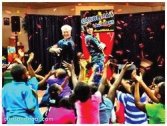 Children these days can't be entertained with just a small bag of coin or rope tricks. They have iPads, play stations, kindle tablets and much more. They require a lot to be captivated. That's exactly what Chris & Neal deliver on a regular basis to hundreds of clients every year all through the Carolina's. Chris & Neal leave parties with the kids
BEGGING
for more! They have the children enthralled from get go... the beginning, middle and end of their party magic show is crafted to create
supersonic levels of excitement
that quite frankly, you might just have to see to believe.
You see, Celine Dion didn't become the worlds most advanced vocalist overnight; it was a long road to big time success full of "experience". And although you probably aren't interested in hearing Chris or Neal sing, I'm sure at this point you are more than interested in their magic shows.
During your search for the ultimate party magician in Goldsboro we do have a few key ideas we would love for you all to keep in mind:
First, you really want to make sure that if you are planning a birthday party that you schedule talent in Goldsboro with a fantastic track record with hundreds of delighted clients - not just any clients though. You're looking for someone with laser sharp focus on squeaky clean "family" entertainment in the Goldsboro community.
So, make sure to be asking all considered Goldsboro magicians, clowns, jugglers etc for reference letters, written testimonials of recommendation, as well as video testimonials. The best family magicians from Goldsboro around will have loads of moms and dads standing behind their back with rave reviews of how incredible a magic show and party they experienced.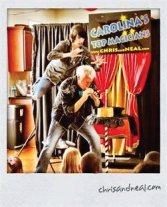 Also, pictures. They say a picture is worth a thousand words. Well, in this case, a picture might just be worth your business. Make sure when searching for the perfect local kids party entertainer you are looking for lots of
ACTION PICTURES!
This right here is critically important. I'm guessing, that you are searching for a magician in the Goldsboro area who has been around the block a few times. Someone who has the experience to really deliver that over the top dynamic party experience to your friends and family attending.
Remember, children's party magicians in Goldsboro are there are to create incredible memories for your family and friends for years to come. So, search for Goldsboro magicians who have already provided fantastic memories to countless families in the region. You will find these magicians by sifting through reviews, lots of reviews, calling friends - asking for referrals, etc. Don't just settle on sub-par family entertainment when you can find the BEST!

Second, many times the first question asked is, "How much do you charge?". We understand the value (pardon the pun) of this question. You should certainly be seeking entertainment within your budget. However, if price is the only concern - you might not want to hire any Goldsboro entertainment at all. Remember, no entertainment is better than cheap entertainment. Sure, there are lots of magicians in Goldsboro all around available to choose from - however, just like an experienced pediatrician,
you will always get what you pay for
.
Here's a nice analogy for you: When you go car shopping, that dealership is full of a wide range of vehicles Cars ranging from 500 bucks all the way up to SUV's over 75 thousand dollars. Now, most families don't buy the decked out car that's fully loaded for 75 grand. It just might be a bit unrealistic in today's challenging economic climate. But, most families also wouldn't buy that 500 car that's been sitting in the sun gathering dust and rust for the last 6 months. Especially considering it will probably brake down within days or months (if you're lucky) leaving you quite frustrated and disappointed.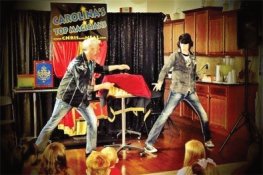 We tell you this for a very important reason. Magicians sell an adventure, and that adventure is a unique experience for children and even adults. Magicians in Goldsboro with a proven track record, are always going to charge a bit more for something called "security". If you were to hire some major illusionist for an event and shell out 25 grand for their act, I'm sure you'd be expecting quite the show. Well, don't be misled - scheduling a children's party magician in Goldsboro is just the same. Except we don't recommend spending quite that much of your hard earned cash.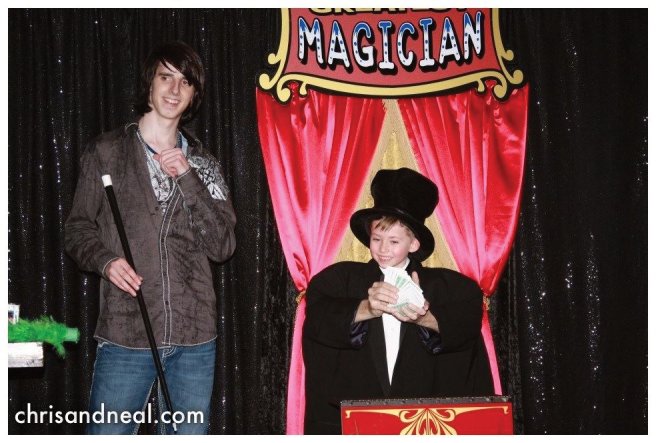 Finally, if you are scheduling a kids party magician, make sure that is who you select. With lots of Goldsboro magicians to choose from - some corporate magicians, some specialized mentalists or even magicians in Goldsboro who specialize in entertaining up close at weddings. Remember, someone can only be so good at so much. Wearing yourself thin is a major factor with many entertainers all over the country. Chris & Neal specialize in performing family entertainment right here in Goldsboro, North Carolina. To this date Chris & Neal have never promoted magic shows for corporations, weddings, or close up venues. You wouldn't want to hire a stand up comedy magician for a close up show at a fine dining restaurant in New York. You also don't want to hire a corporate illusionist or business entertainer in Goldsboro for a family event. Chances are, that corporate performance experience won't render much good when entertaining kids. And let's please not even consider hiring family magicians in Goldsboro for a corporate event, can we say "FLOP!" ;)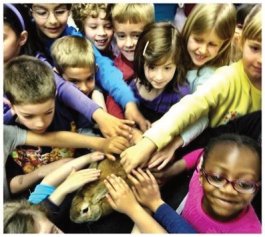 So, the best thing to do now is the pick up the phone and call around to different local Goldsboro magicians or kids party entertainers. Ask lots of questions. Really try to determine how well they know their art, how experienced they really are. Search for those testimonials, network with other local parents. Make sure the Goldsboro entertainer(s) you hire will arrive on time, have a contract or some sort of a formal agreement. Speak with multiple entertainers and see who you connect with on the phone. Someone who is entertaining on the phone and makes a good connection with you will probably be able to do that and much more in person with your guests.
Thank You,
Chris & Neal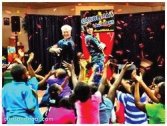 PS: Chris & Neal also offer a 100% "

ROCKSTAR GUARANTEE

"! So, after the magic show, if your son or daughter didn't have a fantastic time. And if you're guests didn't enjoy the magic - then Chris & Neal will tear up your check on the spot as their apology for wasting your time. No need to worry though, no one has ever asked for their money back; and I'm sure you won't be the first.







PPS: For additional information on birthday parties and community events by Chris & Neal please call the office at 

(888) 422-3767

 or click 

HERE

 for birthday parties, or

HERE

 for general family event entertainment.




 


Categories: Goldsboro NC Magicians

0

/