Shopping Basket
Your Basket is Empty
There was an error with PayPal
Click here to try again
Thank you for your business!
You should receive an order confirmation from Paypal shortly.
Exit Shopping Basket
Raleigh. Cary. Durham. Fuquay Varina. Apex. Chapel Hill & More.

"Carolinas' Most Popular Magicians"
Toll-Free: (888) 422 - 3767
Raleigh: (919) 995 - 3924

| | |
| --- | --- |
| Posted on 14 December, 2014 at 23:51 | |
Carolina's Most Popular Magicians
Saturday evening, the 13th of December 2014:
Each year, Camp Lejeune celebrates Christmas in style, throwing a massive celebration party for our nations true heroes and their families. This year, three of the units aboard Camp Lejeune, contracted Chris & Neal for their evenings grand entertainment.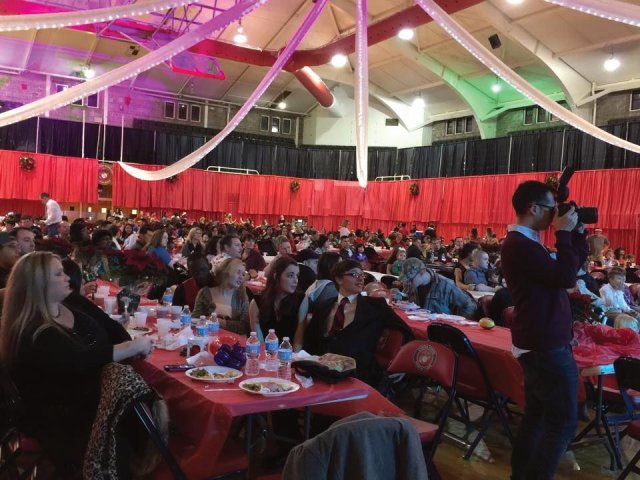 Saturday evening Chris & Neal delivered a spectacular 45 minute show-stopping performance with a back to back series of exciting illusions backed with base thumping rockstar music. Their infectious smiles and passion for thrilling the crowd was felt by all.
Opening the act, Chris & Neal, effortlessly dazzled the audience by making doves and rabbits appear from fire, a wooden bucket and more. At one moment, a large white bird flew out of Chris Bays' handkerchiefs and circled the front of the crowd causing many in the room to gasp in shock.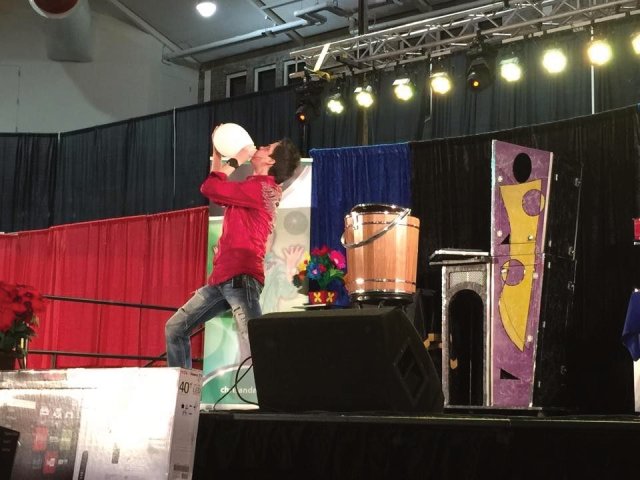 During their grand production act, Chris & Neal, even selected one lucky child to "FLOAT" in mid-air. Fog flooded the stage as Chris & Neal removed the board that was supporting the child from underneath. This illusion was presented mid-way into the performance; however, is regularly the finale of Chris & Neal's birthday party magic shows. More information about
birthday parties from Chris & Neal may be found HERE
.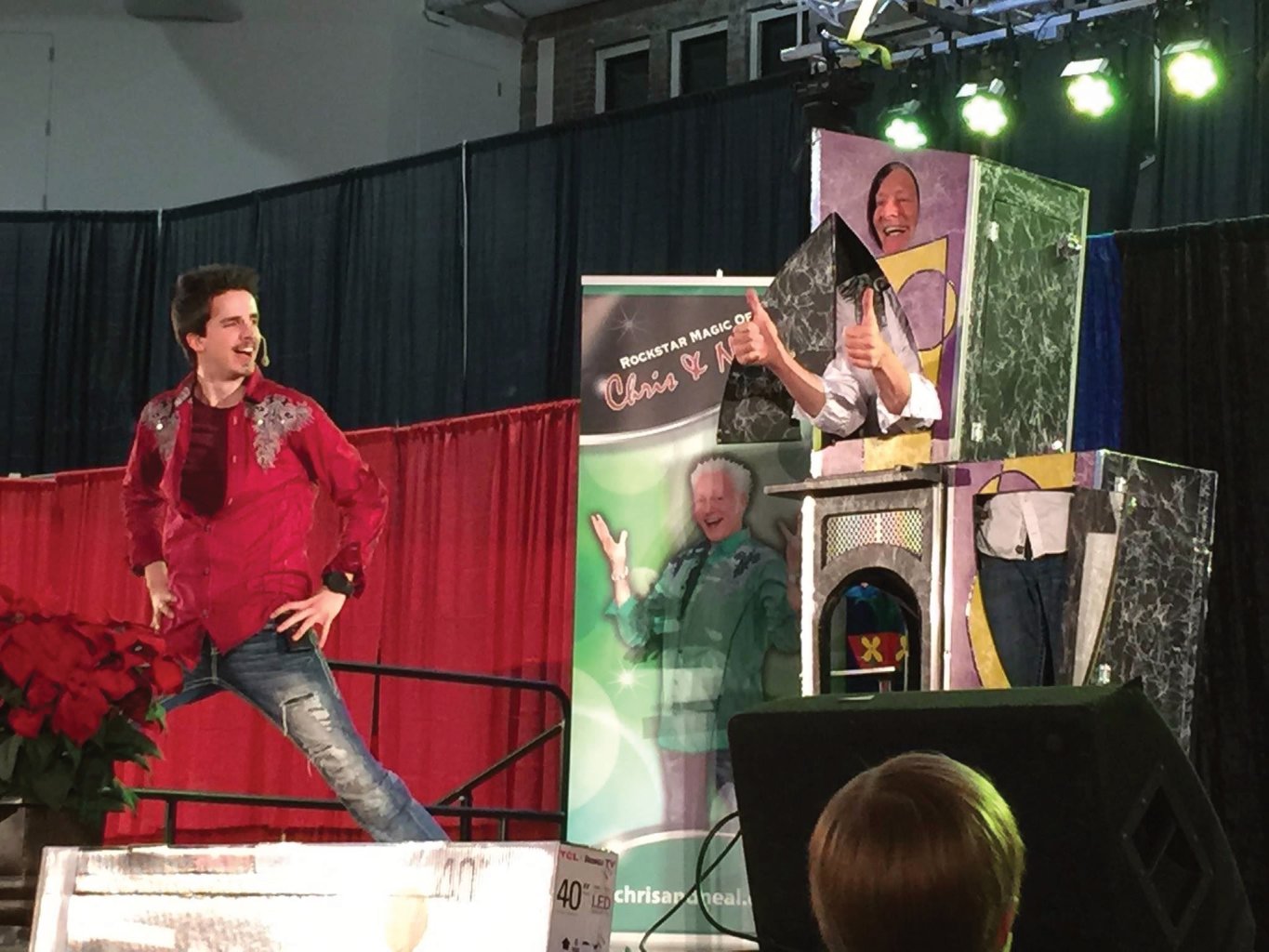 Towards the close of the show, Chris & Neal, shocked the crowd with what Nitro Neal referred to as "side-splitting" magic. As seen in the photo, Neal Chamberlain split Chris Bays in half, resulting in great applause and cheers of enthusiasm for the crowd of nearly 1000 marines and their families.
Then, Neal Chamberlain, came forward and began to tell a very moving story of visiting a young child in the hospital around Christmas time (2013). [Soft music began to play] He recalled the girl told Chris & Neal she wished for a white Christmas, as she had never seen snow.
Neal, "cleverly lifted a napkin from her bedside and began to tear into it, piece by piece", he unfolded the napkin for to reveal a handmade snowflake. According to Neal, she wasn't overly impressed by his thoughtful act and questioned Chris & Neal's talent as magicians.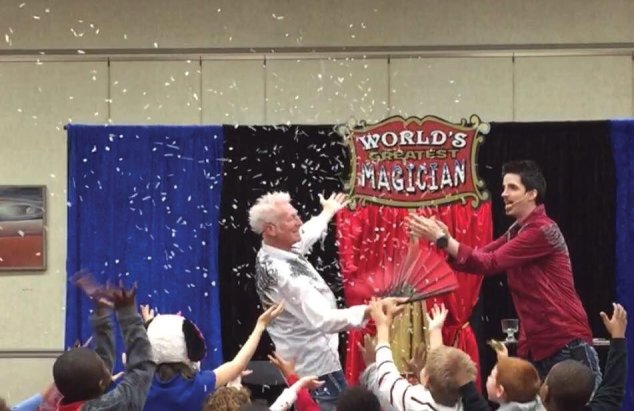 The illusion was then created of Chris Bays and Neal Chamberlain making it snow for the children on Camp Lejeune Saturday evening. Thousands of pieces of white tissue confetti began to flood their air seeming to launch from Nitro Neal's hands containing nothing more than the paper napkin snowflake.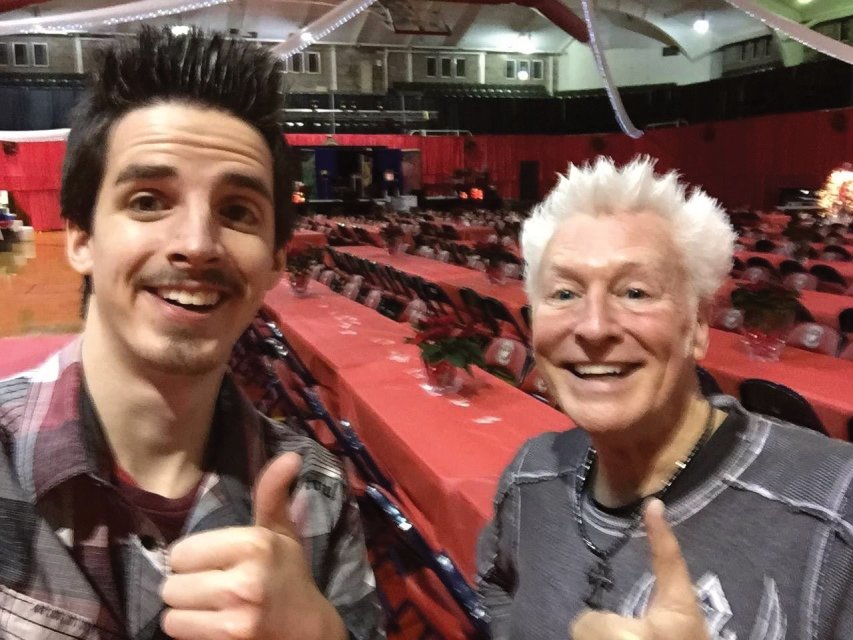 In a post of grand showmanship Chris & Neal struck their final bows on stage shouting, "Merry Christmas" as more upbeat music began to pulsate through the room. The crowd went wild and many wept tears of joy after hearing the moving story which conveyed the true meaning of Christmas.




Following their magic show, Chris & Neal, we kind enough to meet with several children and take photos with many of them; resulting in a lot of smiling faces! Later, Chris & Neal were then served dinner and taken backstage to their private room where MCCS coordinator, Heidi Anastasia, met with them sharing her thankfulness for their performance.







Categories: Jacksonville NC Magicians

0

/